Brenda Fassie and her iconic aesthetic expression
From the archives of our fashion handbook: Brenda Fassie
We are flipping through the pages of our archival fashion handbook and pulling out the pages that documented Brenda Fassie's iconic style. The Queen of African Pop reigned two kingdoms. Her throne extended to the 1980s fashion kingdom. She reigned in music and her crown carried the jewels of the quintessential garments she wore. In addition, the fashion kingdom understands this. Therefore, they have published hundreds of pages that document MaBrrr's style. However, we have chosen five frames that portray how style's eternal nature leaves a permanent stain on fashion. It is not that we found nothing inspiring in the others. We just think these three encompass every expression of the items hung in (both) her closet and ours. In other words, on stages during performances or on the streets she loved to walk, The Queen of African Pop brought style that has lived on. Her aesthetic expression had an iconic voice everywhere she took it. And even in her absence from this Earth, her aesthetic expression is seen in what we wear, everywhere.
Here is a look at three pages from the archival documentation of Brenda Fassie's style that reflect her permanent stain on our style.
The Tank, bright colours and bold earrings
We think it is safe to say that the tank top has become a very essential wardrobe item since the 80s. In addition, our mothers never shied away from bright colours and clothes that were in a dance with anything from a pair of jeans to a pleated skirt. We are confident in saying that the tank has stayed with us all and think that MaBrrr inspired the love for it. Additionally, her earrings always made a statement and we see that in the current aesthetic expression. Our earrings are wild and break free from trends of minimalism that restrict the statements that clothes make.
Then she wore her leather jacket
We are the generation that thrifts and to know that what we seek to find in the piles, was worn by icons like Brenda Fassie is an indication of the scope of her iconic nature. MaBrrr probably just liked leather jackets. However, because she did we are inspired to pair them with what have hung on our closets.
Amazaza and staple gold hoops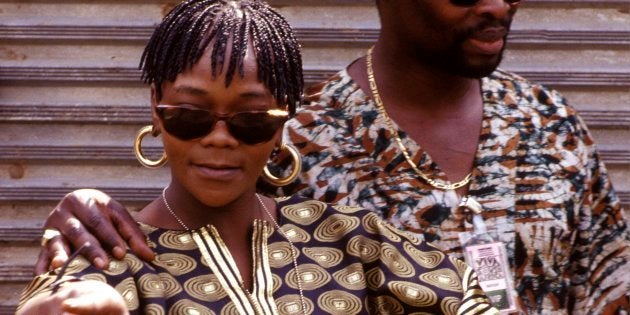 MaBrrr did not wear any sunglasses to complete a look! She wore sunglasses that are still being worn today. In addition her legacy is visible in the gold hoop earrings we wear to accompany even the most basic looks!
Icons truly live on within us, forever. The Queen lives on in our current fashion era.